Membership
Members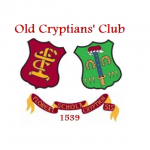 Former pupils of the Crypt School, Gloucester are cordially invited to become full Members of the Old Cryptians' Club (OCC) at an annual subscription rate of £25.
A free membership scheme exists for under-21s. Free membership is also extended to present or former members of staff, and to those who qualify for Associate or Life status.
The membership form is available (Word format) from this link or can be completed on line here.
The annual subscription Direct Debit information is here.
Eligibility
The Club adopted a new constitution at the E.G.M. on 11 May 2009.
Four categories of membership were approved under clause 2 of the constitution. These are defined as follows:
Members: Former pupils, present and former members of staff.

Young Members*: Former pupils under 21 years of age and not in full time education

Associate: Spouses and civil partners of Members and widows or widowers of former Members.
Honorary Members: Persons who are not otherwise eligible for membership but have supported the Club and who in the opinion of the Members should be accorded that privilege.
Life Members: Members who have performed signal service to the Club over many years and whose services the Club wishes to recognise.
Applications for membership from the categories Members, Young Members and Associate Members are welcomed.
Young Members
*The Committee has been conscious of the need to do whatever we reasonably can to encourage school leavers to join the club at the earliest opportunity. Accordingly it has been agreed that, commencing from the summer of 2012, all school leavers would be invited to become members free of any charge until such time as they reach 21 years of age and are not in full time education. At this time they may remain members but would be expected to pay the full membership fee which prevails at the time.