Membership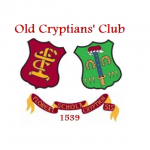 Welcome! We hope you consider joining us.
Former students and staff are encouraged to join the Old Cryptians' Club to enable them to keep in touch with old friends and colleagues. It is an opportunity to meet together at the Annual Dinner, Founders' Day and other events organised by the Old Cryptians.
Younger Members under 25 or in full time education automatically receive free membership. Those aged 26-30 have a reduced membership subscription of just £10.
Membership fee is just £25 per annum. For this you will receive regular OC and school news, invitations (and discounted ticket) to the Annual Dinner, Founders' Day service and supper plus other events organised throughout the year. The Cryptian is published annually and is available online and/or hard copy (on request).
As a member you are also welcome to join the OCC committee; a friendly bunch who try to steer the club in the right direction!
Applications for membership can be sent using email to the Membership Secretary
Eligibility
The Club adopted a new constitution at the E.G.M. on 11 May 2009.
Four categories of membership were approved under clause 2 of the constitution. These are defined as follows:
Members: Former pupils, present and former members of staff.

Young Members: Former pupils under 21 years of age and not in full time education
2023 Committee decision to extend free membership to former pupils 25 and under and introduce a reduced membership subscription for former pupils 26-30 years of age.

Associate: Spouses and civil partners of Members and widows or widowers of former Members.
Honorary Members: Persons who are not otherwise eligible for membership but have supported the Club and who in the opinion of the Members should be accorded that privilege.
Life Members: Members who have performed signal service to the Club over many years and whose services the Club wishes to recognise.
Applications for membership from the categories Members, Young Members and Associate Members are welcomed.
Direct Debit
Members are encouraged to pay their membership fees by Direct Debit using the Club's GoCardless account.
The current membership fee is £25 per year payable on or around 7th January each year for legacy members and on your joining anniversary for new members.
The Club encourages payment by Direct Debit as it significantly reduces administration and banking fees. If you currently have a Standing Order in place to pay membership fees, please don't forget to cancel it once your new direct debit is set up.
The following links will take you to the Full Membership – GoCardless sign up page for full membership and U30 Membership – GoCardless
Your payments are protected by the Direct Debit Guarantee